My son and his family drove up from San Diego to visit with me and with our very special friends (who went to UCSD with Evan and Erin). These are the same folks that took us out on the Duffy electric boat.
We also went to Alameda's newest park (not so new now): the Jean Sweeney Park.
This is the most intriguing park I've ever seen in Alameda. The planning, the playground, the creativity of it all is wonderful. And we have a fair number of parks in A-town.
Her story (below) shows her dedication, perseverance, and perspicacity
If you have not yet gone there, it's a small piece of heaven, dedicated to one strong woman.
The following is an article that was written after Ms. Sweeney passed on.
I wish we had more Jean Sweeney's around Alameda. We certainly need them...more than ever before!
Alameda in Alameda County, California — The American West (Pacific Coastal)
Jean Sweeney - Alameda's "Little Engine That Could"
Photographed By Andrew Ruppenstein, September 29, 2020
1. Jean Sweeney - Alameda's "Little Engine That Could" Marker

Inscription.
Jean Sweeney
In 1998, Jean Sweeney walked out in this 27-acre former Alameda Belt Line railroad yard for the first time. Struck by the silence and what a gem of nature it was, she said, "This has got to be a park." She saw this as an opportunity to hang onto a wonderful asset as a city-wide treasure. The future of the rail yard was discussed at a public meeting in which Jean's dream was strongly supported. Inspired, she filed an initiative with the City of Alameda to rezone the rail yard as "Open Space." Her argument stated, "The Belt Line rail yard is a wonderful, natural meditative place within our City... Seasonal fresh water ponds support the Pacific Chorus Frog. There are also red and blue bellied lizards, many species of birds, including hawks, owls, egrets, jackrabbits, dragonflies and butterflies." In 2002 the initiative passed with strong voter support.
Jean achieved a crucial milestone in 1999 when, as a result of her persistent and tenacious research, she uncovered the 1924 contract of sale in which the City sold its belt line railroad for $30,000 to the Western Pacific and
the Atchison, Topeka, and Santa Fe Railroad companies, which would become the Alameda Belt Line. The contract included the City's right to purchase it back at any time, including all extensions, for the original cost plus improvements. Upon receipt of the City's notice exercising this right to purchase, the Belt Line Railroad sued the City in 2000, alleging the contract was not enforceable. In 2006, the Superior Court of the State of California for the County of Alameda found the contract valid and ruled in favor of the City. This ruling was appealed by the railroad and in 2009 the California Appellate Court sustained the ruling. This allowed the City to purchase the 27-acre Alameda Belt Line property, worth a conservatively estimated $20 million, for less than $1 million.

Topics. This historical marker is listed in these topic lists: Parks & Recreational Areas • Women. A significant historical year for this entry is 1998.

Location. 37° 46.758′ N, 122° 15.942′ W. Marker is in Alameda, California, in Alameda County. Marker can be reached from Atlantic Avenue. Touch for map. Marker is in this post office area: Alameda CA 94501, United States of America. Touch for directions.

Other nearby markers. At least 8 other markers are within walking distance of this marker. History of the Alameda Belt Line (within shouting distance of this marker); 930 Pacific Avenue (approx. 0.3 miles away); Skippy Peanut Butter (approx. 0.6 miles away); First Transcontinental Railroad
(approx. 0.7 miles away); 1930 Where the World Comes to Oakland (approx. ¾ mile away); The History of the Site of the Shade Tree (approx. ¾ mile away); 1920 Moving the World's Cargo (approx. ¾ mile away); U.S. Maritime Officers Memorial (approx. one mile away). Touch for a list and map of all markers in Alameda.

More about this marker. The marker is located about a 3-minute walk west of the parking lot, close to the picnic pavilion, in Jean Sweeney Open Space Park.
Credits. This page was last revised on September 29, 2020. It was originally submitted on September 29, 2020, by Andrew Ruppenstein of Sacramento, California. This page has been viewed 133 times since then and 42 times this year. Photos: 1, 2, 3. Submitted on September 29, 2020, by Andrew Ruppenstein of Sacramento, California.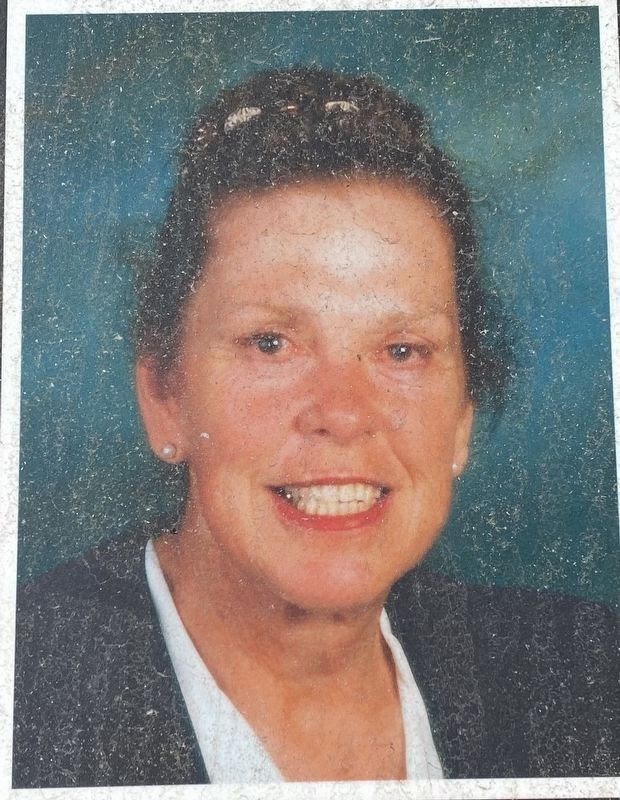 We need more folks like Ms. Sweeney. Yep....we desperately need them.
Live richly, Marilyn